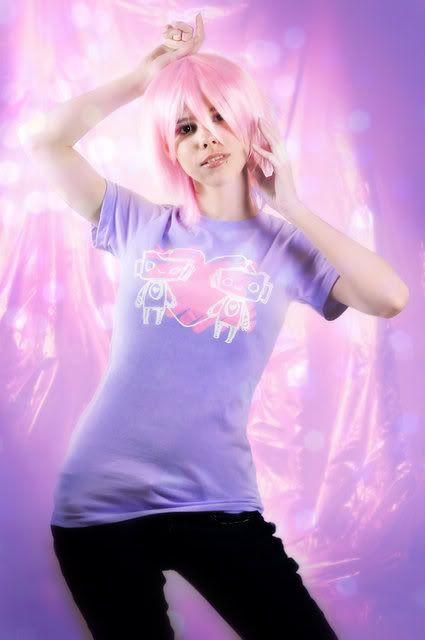 Out of the Archives for a fresh comparison! I found this old interview that I did back in 2010 of one of my favorite models. She is now an amazing erotic and fetish model, and I'm going to interview her fresh and show off some of her new pics. Thought I'd put this up for comparrison because holy fuck, sexy transformation! This girl's career progress is amazing and her new photos make me jealous, and wet!
Age: 21
Height: 5'1
Orientation: Pansexual
Favorite Series: Cowboy Bebop
Favorite Movie: The Labyrinth
Nerdy Pleasure: Silent Hill games, cosplaying, anything Venture Bros or Darkstalkers related and Mah Jongg.
Fetish: Demons, un-natural skin colours, pink hair.
I'm a 21 year old cosplayer. I started cosplaying in eighth or ninth grade, then took a very long hiatus because I wasn't able to afford the kind of costumes I wanted to do without a job. Modeling has always been an interest to me, and I'm particularly a fan of Pin Up and Fetish modeling, and just nudes in general, because I grew up loving art and finding the beauty in the female body. So when I was approached about doing the website, I thought 'Well here's my way to not only get to model a bit, but it's a way back into cosplaying.'

How do you feel about your work for Cosplay Deviants? The website has had a lot of positive and negative points in my life. There's been a wealth of comments about my beauty and my lack-there-of online from dozens of websites, and I've gained and lost friends during my stay on the website. Being placed on the internet where so many people mock your beauty really tests your personal strength, and while there have been nights where I'd get upset over the things people were saying about me I think it really helped me to grow up and thicken my skin.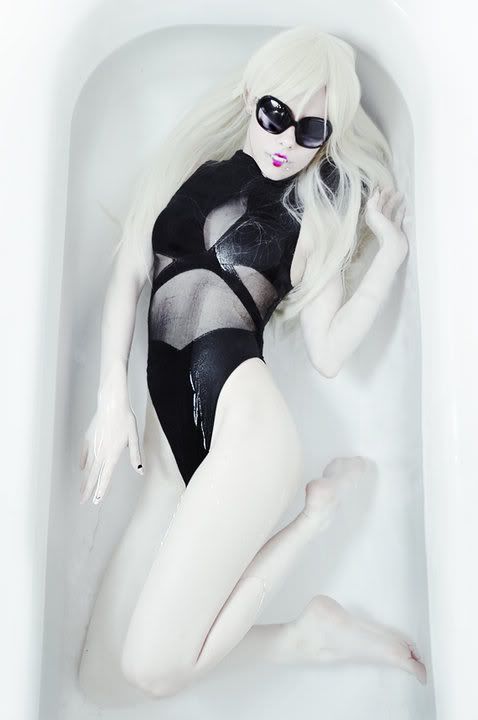 Do you do any other naughty modeling? Have you shot anything lately?
Recently I got to spend a week with several of the models from the website and shot a crap load of sets. It was so much fun to finally get to just hang out with friends again, since I haven't had that opportunity after moving to New York well over a year ago. I miss them already! *cries* It was great getting to work with Kassandra, especially, because she's such a professional at modeling and photography and I did everything I could to soak up ideas and tips from her while I was there. Plus Nana really helped out with posing, because she's like a little Kassandra in training. So I'm really looking forward to seeing the sets come out, because I can't wait to compare the growth between now and when I started on the site and had no idea how to pose. On top of that, it was my first time shooting with other models, which is awesome and overwhelming at the same time. I had a great time doing the Maid set with Kassandra, Noel and Nana. Then when it came time to do a boy/girl set with Kickapoo, who's currently still a potential, I got a little nervous when it came time for his boxers to come off. Luckily Noel, who is actually engaged to Kickapoo, came running in the bathroom and started making fun of us which made it easier to shoot.
Unfortunately my Mudkip costume disintegrated in the bath tub during my couples set with Kickapoo. In hindsight, shooting that set in a bathtub wasn't our best brain storm! I hear that the shots came out really nice, though, so hopefully it was worth my tail's sacrifice. I would like to do a less rushed version of a Mudkip costume for conventions in the future, because I just love that damn pokemon so much!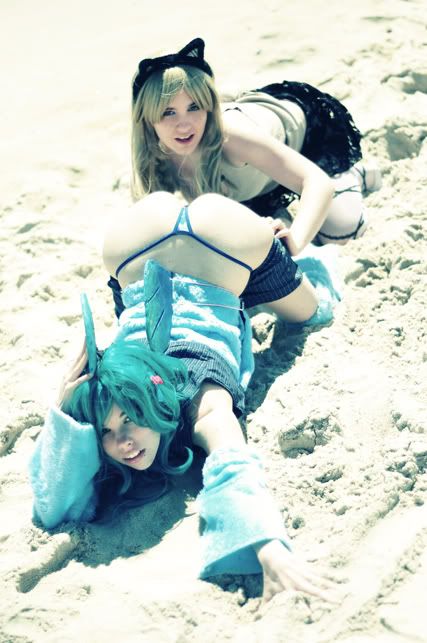 Did you enjoy your time with the CosDev gals?
I did! I even had my debut in photography this week! The day of Noel's Angewomon set Kassandra got extremely sick and couldn't make it out to the location. Thankfully she'd been letting me play around with her camera, so she gave me a quick Crash Course as to how the camera works, and sent me on my very merry way. I was running around like a lunatic trying to get the right angle for every shot, and poor Noel had to keep holding poses while I zoomed in and out trying to frame her perfectly. I was a nervous wreck when we came back home and Kassandra went through the images, because Kass will be brutally honest, but thankfully she thought I did a good job! I'm possibly more eager to see THAT set go live than the ones I'm modeling in, because I'll be able to say 'I did that! That was me!'
So whats up coming for you? Anything we should keep our peepers peeled for?
Currently I'm working on a few sets, including two ladies from [adult swim] which is my favourite programming block. I'm also doing another anime character once the dress arrives and I can set up a time with the photographer near by. I have more plans to do couples shoots in the future with Kitty and Nana. I'm also trying to think of stuff to do with Kassandra but we come up with CRAZY concepts so we'll see when that happens. Haha.